The Opportunity in Real Estate Investment in Nigeria: Nigeria, a country of over 200million people has a housing deficit of 17-21million.
With an ever increasing population growth, Nigeria is a prime investment destination, a ready market for various investments; tech, financial services and real estate investments.
But when we talk about real estate investment in Nigeria there is a need for us to realize and appreciate the peculiarity of our situation here in Nigeria.
If you don't realize, understand or appreciate our peculiarity and try to paint Real Estate investment in Nigeria with the same brush as is done in other climes – you may run into problems.
This post is going to show you how to make a lot of money from Real Estate Investment in Nigeria or how you can alternatively save a lot of money from your Real Estate investment deals – because a lot can go wrong in a hurry.
Real estate is as old as God's green earth and ever since man started cultivating land and marking territory – the accompanying commerce that ensued in some way or form or manner around using that piece of earth to make profits and all the activities carried out in said land – gave birth to Real Estate Investment.
If you go back to the basic economic principles – you'd realize from the four factors of production;
Land
Labour
Capital
Enterpreneurship,
Sitting at the top is; land. Traditionally, you could not start any form of business and undertake commerce without land.
Nigeria as a Real Estate investment destination Real Estate is worthwhile – with a ready hungry market that you can take advantage of! But you must look at it as a business – with the aim of making profit. That is how to succeed!
The Opportunity in Real Estate Investment in Nigeria:
This is an example of the kind of emails I receive; a $40milion fully funded Real Estate project request from a Private Equity firm in Toronto Canada seeking for a contractor partner in Abuja.
This post is going to show you how to make a lot of money from Real Estate Investment in Nigeria or how you can alternatively save a lot of money from your Real Estate investment deals – because a lot can go wrong in a hurry.
If you want to invest in Real Estate or start a real estate business here in Nigeria, these are not 'nice to haves', but things you should definitely pay attention to:
If you want to dive into how to make successful real estate investments in Nigeria – it goes without saying that you have to look at some successful real estate companies and developers in Nigeria.
You have to study how they have done their real estate investments and stayed successful for years in Nigeria. Despite the numerous challenges they have somehow managed to not only stay afloat but thrive.
The likes of these companies and developers are such as;
JE'DON PROPERTIES LTD

KNIGHT ANGELS REALTIES LTD

ETC
If you want to invest in Real Estate or start a real estate business here in Nigeria, you should definitely pay attention to what they are doing. I can tell you that they are getting a lot of things right.
I have learned a lot about Real Estate just observing how these Real Estate companies have done business and real estate investment in Nigeria.
I've learned more from them than in any book or school.
If you want to invest in Real Estate in Nigeria
2.) Choose The Right Real Estate Investment Strategy
Broadly speaking they are four (4) major Real Estate investment strategies:
Rentals are one of the oldest, safest, and most steady source of income from Real Estate.
In Rentals, you buy a property to put on the market for monthly or yearly rental.
It has a lot of upsides like; regular cash flow, asset appreciation, collateral for loans, and property can be sold afterward for a profit.
The downside is that just like in many numerous Lekki and Banana island apartments, you may experience non-subscription of your apartment for long periods.
But a hot axis like Osapa London has very few empty units.
A company like First World Communities handles rentals in a prime place like Abijo and a 3 bedroom flat there goes for NGN1.2m per year with a property worth of 25m.
Dangote has taken out a lease for over 50 units and you can make guaranteed rental income of NGN800,000 per annum by buying these properties as a rental investment.
To find out more about rental investments, in Nigeria
Also referred to as land/property banking – you purchase a property to sell in the quickest time possible for profit.
Property development involves purchasing land, erecting buildings, developing infrastructure, and selling to the buyer either at carcass (lintel level), fully finished, with fittings, plumbings, and so on, or fully finished and furnished.
They seem to have realized their competitive advantage and stuck with flipping properties; selling land in only prime areas in Lagos and Ibadan.
UPDC has a monolopoly in various areas around Lagos, like Festac and Osapa London where they developed the popular Pinnock beach estate with plots of land for sale ranging from NGN180,000,00-NGN320,000,000
There is another less talked about Real Estate Investment strategy: Real Estate Investment Trusts (REITS).
Simply put, a REIT is a trust that pools funds from individual investors, acquires, operates and/or manages income-generating real estate.
There are different types of REITS like Equity REITS, and Mortgage REITS. These REITS, listed in the Nigerian Stock Exchange distributes the income derived from their owned properties and investments as dividends to subscribers.
REITs are traded on the Nigerian Stock Exchange (NGX) just like stocks; you can buy or sell REITs through stockbrokers.
There are currently only 3 registered REITS recognized by the Securities and Exchange Commission namely; Union Homes, Skye Shelters and UPDC, a subsidiary of UACN. UPDC are the developers of the Popular Pinnock Beach Estate
Nigeria by 2019 had the market cap of REITS at NGN32-72bn, compared with South Africa which has a total market cap of over $31.42 billion of 31 REITS.
For even better context the combined market capitalization of the three REITs in Nigeria is US$131 Million while in the United States, the combined market capitalization of REITs is around US$898.41billion.
REITS have been very challenging to implement in Nigeria, and even a major REIT – UPDC, a subsidiary of UACN posted a loss last year.
So you can see that whatever strategy from the above you choose namely;
i.) Rentals ii.)Flipping Houses/Land iii.)Property development iv.) REITs,
You have to position yourself for success because it isn't a walk in the park..
But how do you choose the right Real Estate Investment Strategy in Nigeria? How do you implement your strategy successfully?
Keep reading:
The role of government is very heavy in Nigeria.
When motorcycle ride hailing technology entered into the market it took just a simple announcement to squash investments and livelihoods.
Companies had raised millions of investor dollars, and it was over in one day. They had to pivot to logistics.
Now to even emphasize the role of government in this industry, per the Land Use Act, it empowers the governor to have unfettered access to all land in the state.
So the governor has to approve every single land transaction for it to become legally binding.
If you do not understand this or the role the government plays in rectification, ratification, giving titles, and approving transactions, you'll get into trouble.
Befriending government, government agencies, officials and following due process in the land bureau is a required strategy here depending on how high you want to fly.
Following from the above – you should be aware that legally binding property transactions can only be done on a properly titled property registered at the state's registry.
The major title you should always look out for is the C of O. The certificate of occupancy is a document that confirms the lease of a piece of land to an individual for 99 years.
Other land titles you should know are:
i.) Governor's consent: a governor's consent can be considered as a title because it confers authenticity on a land. Like the name implies, it is a duly signed and stamped deed of assignment by the governor of the state.
This shows that a land with a C of O title has been transferred to another owner duly recognized and backed by the state and power of the governor.
Other useful titles to note are:
ii.) Excision: Excision is the process by which the government carves out areas in places it deems urban areas and officially releases and recognizes the ancestral owners as the lawful owners of that portion.
iii.) Gazette: This excised portion is subsequently recorded in the government's official journal called the gazette. This is a recognized land title.
NB: A registered survey is not a title. Also, a'freehold' land isn't a title as well. But a freehold and a registered survey is free from government acquisition and processing of C of O/ perfecting of the title is possible.
Per the land law, if land is not registered or the survey lodged in the Land's bureau and duly approved by the governor – through the C of O or allocation – you have no enforceable legal right over it.
The popular saying goes; real estate is all about location location location!
This fact is not any different here in Nigeria.
Whichever strategy you choose; the most important decision you would make is the location!
The right property in a prime location sells itself.
A company like JE'DON PROPERTIES LTD has Prime locations in Asaba , Enugu, Anambra,ABUJA,Lagos, Edo an so on .
But the thing about prime locations is that they are expensive. Very expensive.
So what happens if you do not have the budget for a prime location? Then consider areas that share boundaries with these prime areas.
In Lagos, Real Estate and location value has been a linear progression – from Ikoyi-Lekki-Ikate–Osapa-Chevron-VGC–Ajah–Abraham Adesanya–Sangotedo–Abijo – Awoyaya – Lakowe – Bogije all the way into Ibeju Lekki.
Property Rental in prime Locations:
Lagos is such a heterogeneous place that attracts investors, expats, holiday goers, people on official visits and the likes. There is thus a housing deficit of 2million+ and it is ever growing.
The rental industry is struggling to meet up with demand and most people do not want to rent for long or stay in hotels. So the solution? Serviced Apartments!
To this end, alot of developers are positioning their property developments for the market to take advantage of the shortlet market.
And since most of the demand is in Lekki, you can see companies like veritasi, tribitat real estate, God's Made Homes Luxury positioning in Freedom way Lekki and with an initial deposit between 2m-10m, you can get a 3 bedroom, fully serviced apartment here.
But prime areas do not become prime overnight; most times it does not look like it for years.
You could make a lot of money and save massively on your initial investment by spotting auspicious locations that would do very well in a few years.
You could buy affordably now and maximize your profit when you want to sell, rent or put on the shortlet market..
These are other important points you need to note about real estate investment in Nigeria:
The popular mantra: "Follow the money" is a catchphrase popularized by the 1976 docudrama, " film All the President's Men, " which suggests political corruption can be brought to light by examining money transfers between parties.
It follows that in Real estate business and investment here in Nigeria – you have to keenly follow the government's policy direction and area of interests.
For example, governor Rotimi Amaechi, former executive governor of Rivers State introduced the Greater Port Harcourt Scheme during his tenure.
It prescribed particular areas in the state as areas where the government had particular interest with infrastructural plans to drive development beyond the main city – Port Harcourt to other local governments in Rivers State.
This meant that land value increased in these local governments and there was more paperwork involved in acquiring and perfecting your title in these formerly 'rural' areas.
The government now had a blueprint for every single square meter for specific purposes – commercial, residential, roads, hospitals, etc.
In Lagos places like Badagry, Festac, Agege, Ikorodu are not premium real destinations because there is a dearth of government interest and it reflects on perceived property value, demand and supply and investor interests.
Following from the above; Lagos state has deemed Ibeju Lekki as an urban area – this means it has falls under Global acquisition – which means that government has an interest there and plans to undertake massive projects and infrastructure.
Per the Land use act – government 'commits' a large portion of land in these urban areas for its use now or in the future.
The remaining part is free and by a process of regularization/ratification or excision ownership of these free portions can be transferred to ancestral land owners for whatever use they deem fit.
This has made Ibeju Lekki – a once remote location transform to a residential, commercial hub – an eldorado for investments spanning into billions namely; Dangote Refinery, Alaro city, Free Zones, among others.
In Nigeria, GRA means Government Reserved Areas – can be interpreted to be a euphemism for affluence and a better standard of living.
These exclusive residential areas were originally created to cater to white colonial administrators.
However, after independence, Nigerians began to occupy administrative senior posts that hitherto used to be the exclusive preserve of the white overlords, including their highbrow and secluded GRA residence.
GRAs now are usually a well serviced area with good road network, serviced estates, properly maintained that sometimes has the state's government house here and undoubtedly politicians, celebrities and other influential people in the country.
Lagos has a couple of GRAs in the mainland; Ikeja GRA, Ogudu GRA and the only GRA on the island – Abijo GRA
Investing in a GRA is a good Real estate investment considering that whatever strategy you adopt – rentals, development or flipping; it yields massive returns as these areas are exclusive – so prices are always premium and in demand!
Lagos Nigeria is flanked by both the Atlantic ocean and the lagoon. With an amazing shoreline and hectares of coastal real estate, you can take advantage of this premium real estate for your beachfronts like VI, Oniru beach and Lekki. Pinnock Beach Estate and Banana island Lagosare popular beachfront estates in Lagos.
Infrastructural projects, construction and developments are variables that affect the value of real estate positively and by Nigerian standards, Lagos is trying! with infrastructural developments, in various stages of completion like:
1.) The Red line Rails: A 37km rail system from Agbado to Marina.
2.) The Blue line Rails: A 27.5km rail system that runs from Marina to Okokomaiko.
3.) The Green Line Rail: An 18km rail system that runs from Lagos Island, traverses Lekki Peninsula and terminates at the location of the proposed Lekki International Airport – it also bifurcates to the Dangote Refinery and Lekki Free Trade zone.
4.) 18.75km Lekki Epe Expressway Project from Eleko junction to Epe T junction. It consists of a 6 lane rigid pavement carriageway that begins from Eleko junction in Ibeju Lekki to Epe T junction, Epe.
5.) 26.7Km Lekki Epe Expressway Project from Eleko Junction to Abraham Adesanya Junction in Eti-Osa axis. This construction is a precursor to the popular 4th mainland bridge.
6.) Construction of 3.75km of road network across 4 roads including; Thompson avenue, Milverton road, McDonald road and Lateef Jakande road.
7.) Ojota – Opebi Link bridge.
8.) Six major junctions improved at Lekki phase 1 and 2, Ajah, Maryland, Ikotun and Allen Avenue with Traffic light signal (TSL) technology.
9.) 10km long Lekki Regional Road network which covers districts from Victoria Garden City scheme 1 to Lekki Freedom way.
10.) 1.4km long Agege/Pen Cinema flyover bridge.
Knowing the above above Real Estate Investments – how do you fund these projects? There are several methods you can deploy which include:
The most common and most intuitive in this part of the world, you can easily fund Real Estate projects from savings and salary depending on your pocket and the scale – there is something for every pocket and every size!
You may not be able to shell out millions immediately out of pocket but there are different payment plans you can take advantage of.
After putting down a stipulated payment – a fraction of the cost, you can spread the remaining payments, for a month, three months, six, 12, 24, even 2-4 years.
Most times these come with a little interest attached after the third month, but some are even interest free, up to 4 years! like Landwey's development at Oworonshoki.
Maybe not so popular with individuals but lots of Real estate developers and companies take advantage of this method. It's all about OPM (other people's money) and channeling it to Real Estate projects.
Banks even in this part of the world that are usually not poised to give people and businesses loans gladly bring their cheque books out for Real Estate developments and projects.
The interest rate might be a conversation for another day, but most companies meet up, even after taking profits from their Real Estate Investment projects.
This is very popular in Lagos, as groups of individuals, companies, and organizations come together to pool funds together and fund real estate projects. There is flexibility in the payment terms and as a group they can purchase land in bulk, start development simultaneously and secure the land, rather than doing it as a lone ranger among so many wolves!
A popular co-operative in Lagos is the Chevron cooperative – with a long list of investments in their real estate portfolio namely; Nicon town estate, Chevron Drive, Northern Foreshore estate and a couple of estates in Abijo GRA and opposite Fairfield Apartments Abijo.
Ancestral land owners (also called omo ni 'ile) with a bulk amount of land usually don't have money to develop so every now and then when they want to raise money for themselves, they partner with developers and sponsors to develop and sell their land.
This is a method called sponsorship.
In turn they offer you plots as compensation, commensurate to the volume of land you do work on.
This is how big companies like Landwey, Pwan, Veritasi, Revolution Plus and other companies get bulk land in Ibeju Lekki and Epe.
If you want to invest in Real Estate in Nigeria, Click to Call us, or Send a Whatsapp message, or Email us.
Joint Ventures are another way to fund Real Estate Businesses and investments. They are usually two, three or more parties involved;
The owner of the land (usually owned in a prime area or a massive expanse). The developer that is interested in developing and putting infrastructure on the land/property. The investor; most times the developer and investor are the same, but other times, the investor pools funds together to either implement the project, or contribute to the project for an expected return when the property is sold or rented.
If you want to invest in Real Estate in Nigeria, Click to Call us, or Send a Whatsapp message, or Email us.
3 Major Risks involved in Real Estate Investment, No 2 Will Shock You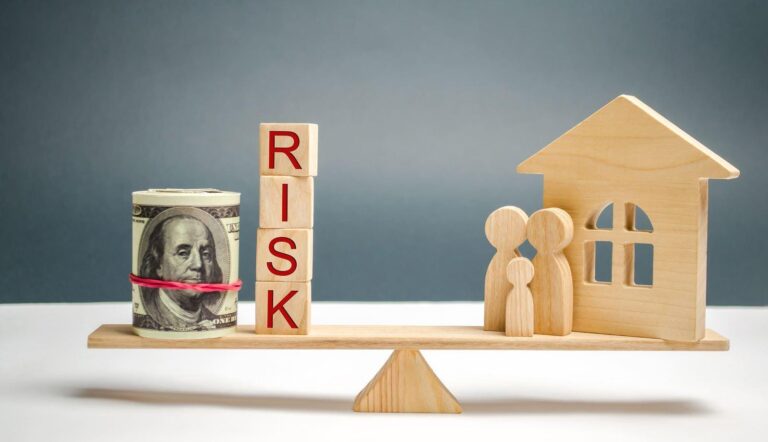 There is no doubt that investing in the Real estate can be very lucrative, but it's also important to understand the risks associated with the investment if one is not careful enough.
Real Estate investors sometimes prefer to ignore the risks in property investment, including the unpredictable nature of the real estate market which is not advisable to neglect.
1. Choosing a Bad Location
Choosing the right location should always be your first consideration when buying any investment property.
Your property's location determines your ability to make a profit from your property investment and enhances its potential for appreciation.
In general, the best location is the one that will generate the highest value within a short time which is why it is necessary that you only acquire a property in a good location.
2. Tenants Problem
To avoid vacancy risk, you want to keep your investment properties filled with tenants. But that can create another risk: problem tenants. A bad tenant can end up being more of a financial drain (and a headache) than having no tenant at all. Common problems with tenants include those who:
Don't pay on time, or don't pay at all (which could lead to a lengthy/costly eviction process)
Trash the property
Don't report maintenance issues until it's too late
Host extra roommates (human or animals)
Ignore their tenant responsibilities
While it's impossible to eliminate the risk of having a problem tenant, you can protect yourself by implementing a thorough tenant screening process. Be sure to run a credit check and criminal background check on every applicant. Also, contact each applicant's previous landlords to look for red flags like late payments, property damage, and evictions.
It's also recommended that you investigate a potential tenant's work history. Make sure they have a steady salary that can reasonably cover rent and living expenses. It's also a good idea to pay attention to scattered work history. An applicant who bounces from job to job may have trouble paying the rent and may be more likely to relocate in the middle of a lease.
3. Lack of Liquidity
If you own stocks, it's easy to sell them if you need money or just want to cash out. That's not usually the case with real estate investments. Because of the lack of instant liquidity, selling a property off might take weeks or months to get the best deal as buyers will only look to take advantage of a distressed seller. You could end up selling below market or at a loss if you need to unload your property quickly in limited time.
While there's not much that you can do to lower this risk, there are ways to tap into your property's equity if you need cash. For example, you can take out a loan using your property as a collateral.
Kindly note that all this risk can be properly managed when you engage the right professionals. Our team will be willing to offer you the help you require and guide you through the process in the most convenient way, for more information please Contact us